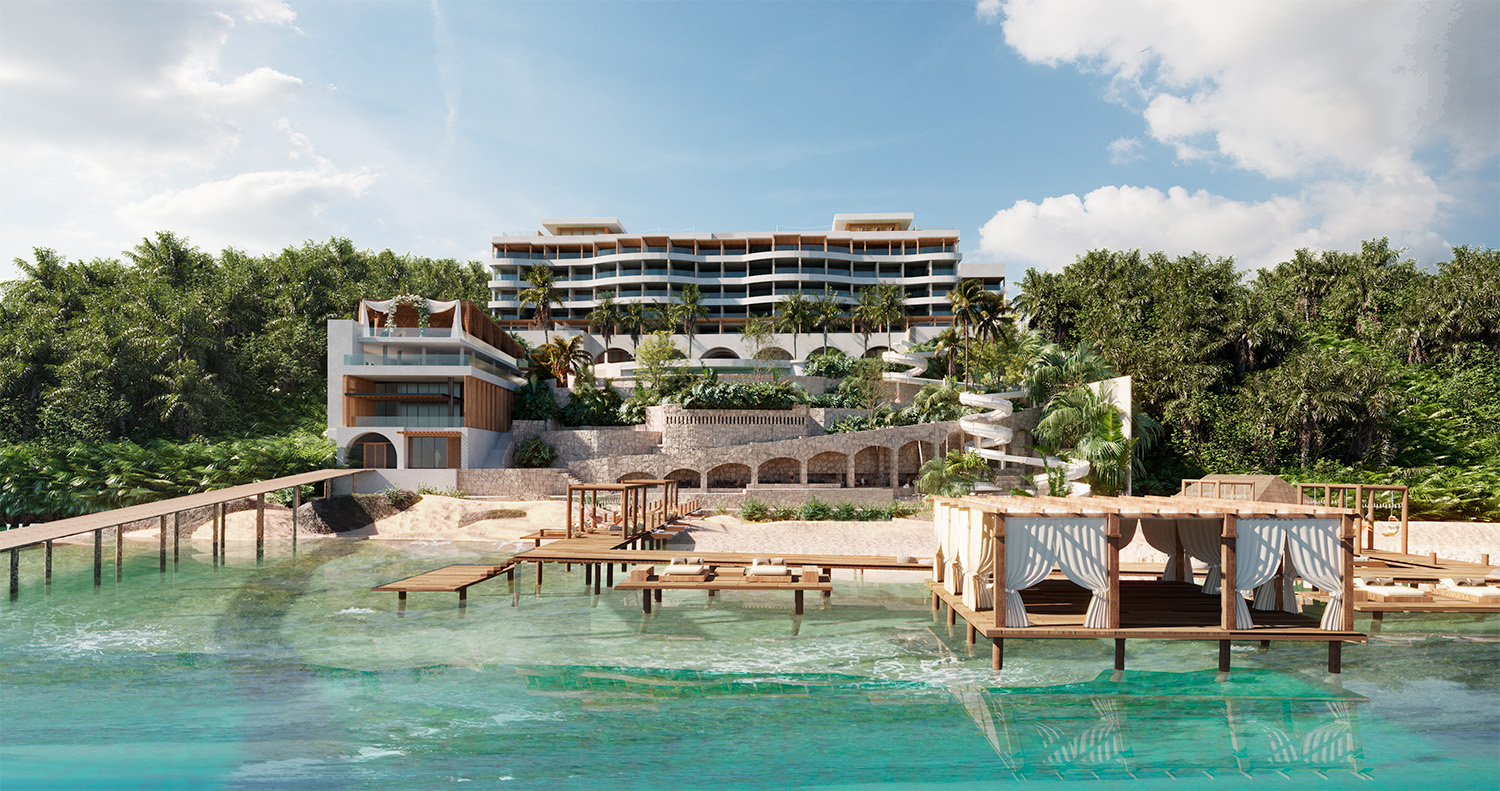 With new-build resorts popping up out of the wilds across the Yucatan Peninsula and Riviera Maya to compete against one another, it's a leisure traveler's dream. Contemporary grandeur, tasteful opulence, over-the-top service, and on-trend, locally focused offerings in food and beverage as well as interior design—any new entrant better have it all and then some.
… Which is why the travel industry and customers of brands like ALG Vacations® have been waiting with bated breath for the grand reveal of Secrets® Impression Isla Mujeres.
A new line of luxury, an elevation of AMR™ Collection's Secrets® Hotels & Spa Resorts brand, and the second in the collection following the debut of Secrets® Impression Moxche, this breakout sub-brand elevates romantic adults-only luxury to beyond Zoëtry® Wellness & Spa Resorts levels.
A Lasting First Impression
The experience of a stay at Secrets Impression Isla Mujeres begins with the journey. Guests are whisked 25 minutes away from reality and the mainland in an exclusive resort boat to a retreat that brings to mind the glamour and romantic architecture of the Mediterranean. From there, they enter a world of Endless Privileges®, surrounded by the Caribbean Sea, tropical cliffs, and picture-perfect sunsets.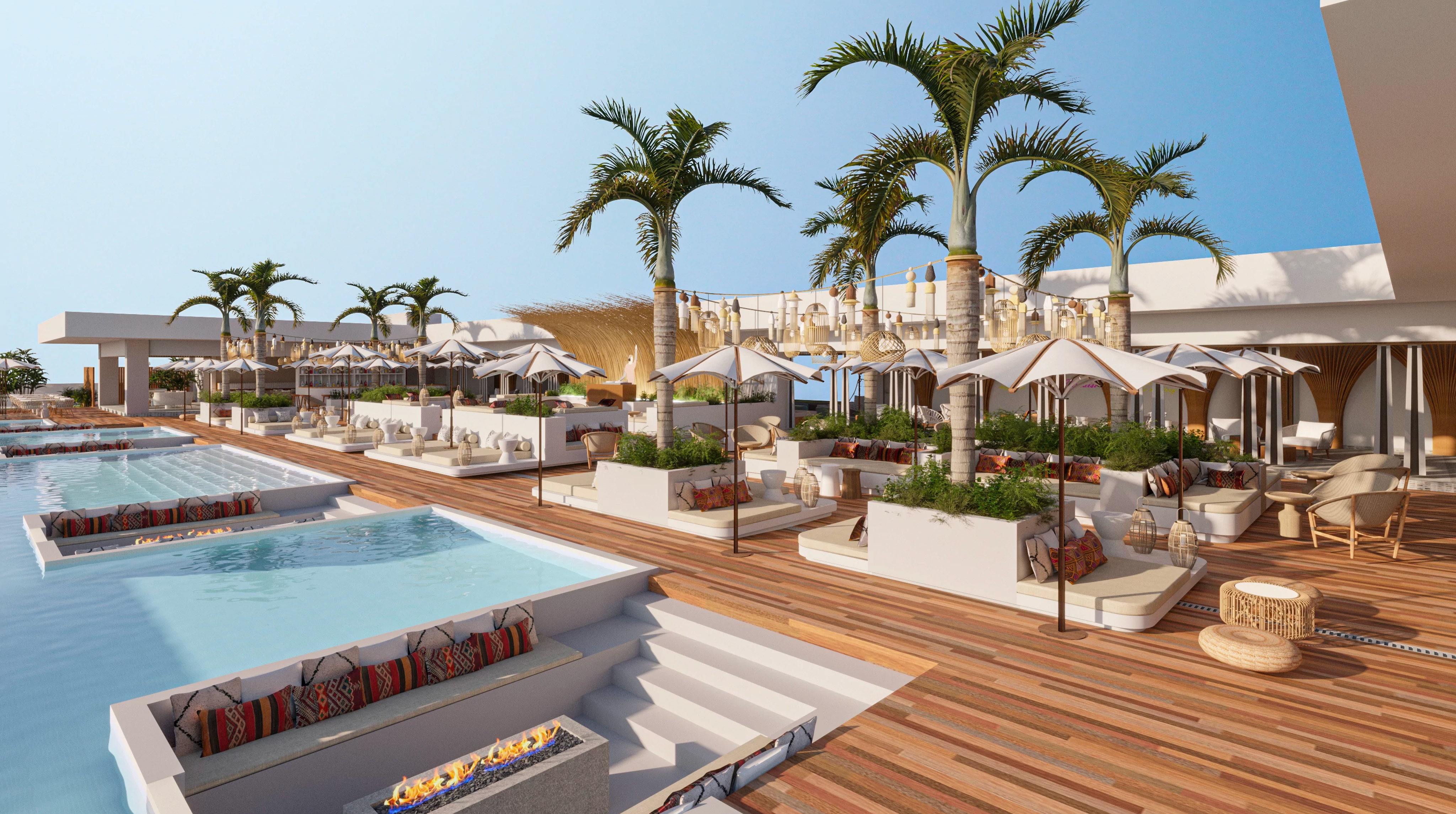 But Where Do "Endless Privileges®" Begin?
Well, as soon as you walk off the boat and step off onto a curtained, shaded dock hovering above aquamarine waters—the entry point to a curving white edifice with arched walkways, rich wood tones, and a dramatic twisting slide that can serve as an express route to the beach. But oceanfront lounging doesn't have to be limited to the sand with this unique property. Rather, ample seating on the dock and catamaran nets built right into the structure, suspended over the clear sea below, invite immediate drop-your-bags-and-relax energy.
From there is the lobby, where no formal check-in or -out time limits guests to their arrival or departure. Of course, refreshment is proffered, but it's the design refreshing thing of all. Domed ceilings, natural light, and a tastefully minimal, almost Mykonos-like palette of stark whites and immediately soothe.
This aura of instant relaxation continues on to the details of the property. On the main floor, an infinity pool. On the roof, sunken conversation areas with plush cushions and contemporary fire pits form the most coveted seats in the house, but big double loungers, padded sofa-style seating, and billowing curtains blowing in the background make them no consolation prize.
Then there are the rooms.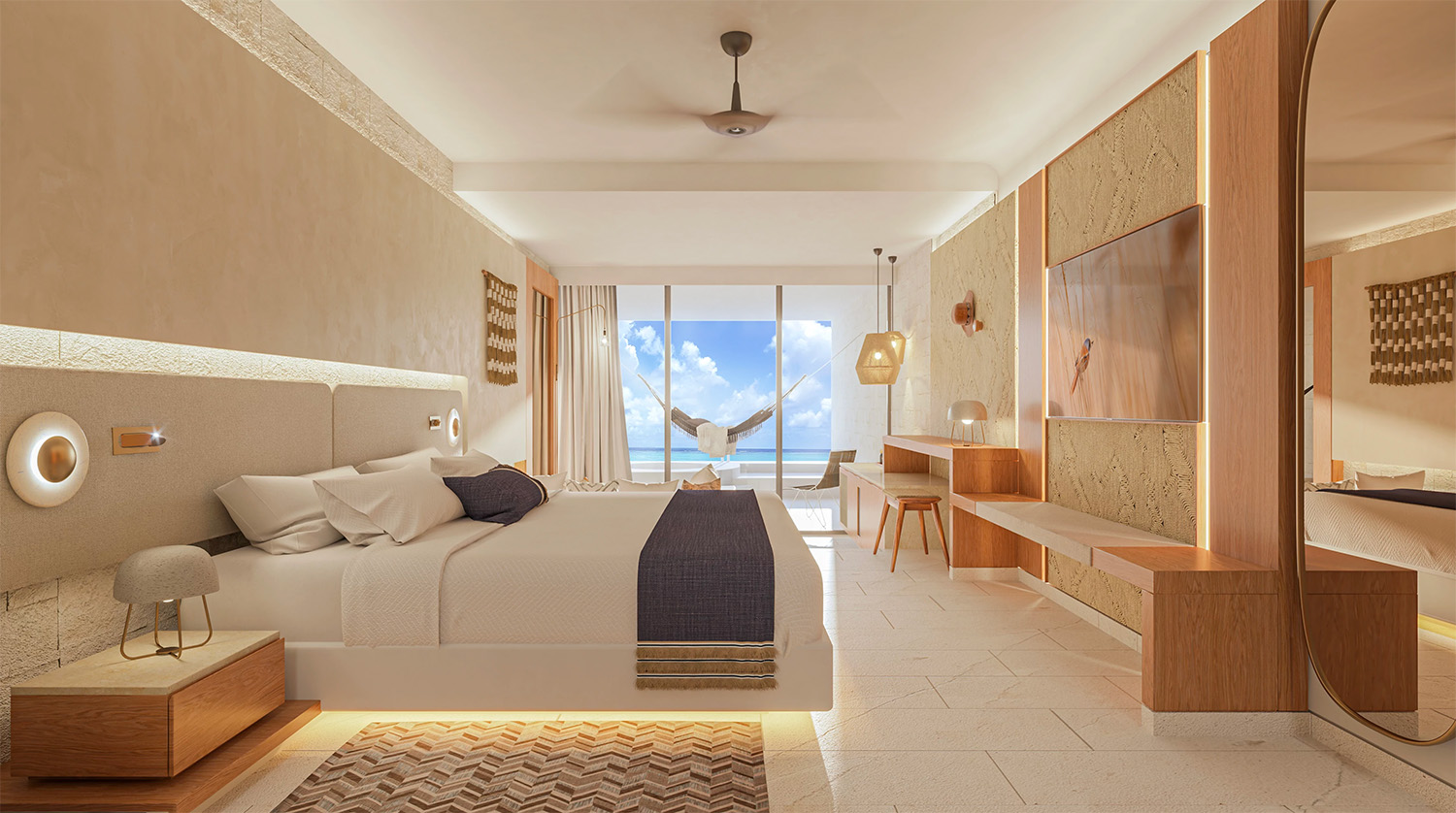 Suites Meant to Make an Impression
An ultra-zen vibe is the predominant theme for all 125 ultra-luxurious suites, all of which have unencumbered island views of the landscape and ocean. Shades of white, light oak, and stone gray fill in the color palette across room categories, which start at a big 602 square feet. They only get bigger and better from there—the Signature Junior Suite King categories add on another 162 square feet of living space. It nearly doubles with the Paramount Suite Ocean Front and Honeymoon Ocean View rooms, which measure 1,291 and 1,281 square feet, respectively, and offer a six-person bar for indoor entertaining and gathering. Spring for the Honeymoon Oceanfront and you're adding yet another 200 square feet.
However, if size is tantamount, the Sunrise Presidential Suites are what you'll want to book. At 3,500 square feet or more, these are bigger than many homes, offering a private swim-out pool per room, separate living space with organic-shaped furniture, enormous terraces with hammocks and plush seating, and cavernous bathrooms.
Impressive Service & Value
Beyond décor, the impression of extreme luxury extends to service.
Every single room category comes with butler service, available from 7 in the morning to 11 at night. Housekeeping is scheduled for three times a day, and laundry is complimentary.
Go ahead and read that again: complimentary laundry. Forget about having to overpack, washing a suitcase of dirty clothes, or rinsing out your suits and cover-ups in the sink—it's covered.
And if that isn't already dream enough, small dogs are welcome and given their own themed dog bed and toys, so you can vacation with literally all the comforts of home and then some. Plus, every guest at this property receives a complimentary 20-minute wellness experience at the on-site spa, where they also offer rare treatments such as Hamman cleansing and a warm salt bath Floatarium experience. For even more, there's complimentary access to Zoëtry® Villa Rolandi Isla Mujeres and all of their amenities—another high-end resort bookable through ALG Vacations®, another service-oriented family of brands.
All of this is hitting the upscale travel market December 2022. Booking early with ALG Vacations® and a travel advisor (www.traveladvisorsgetyouthere.com) to guarantee that the new year makes a good first impression? We couldn't think of a better way to usher in 2023.
ALG Vacations® is a highly respected collection of tour operators widely recognized for providing the industry's leading leisure travel experience across the world. Its well-established brands include Apple Vacations®, Funjet Vacations®, Travel Impressions®, Southwest Vacations®, Blue Sky Tours®, and United Vacations®. ALG Vacations® is part of Hyatt and managed under Apple Leisure Group®.